Choose your solution: Lifetime license (pay once, use forever) or Monthly subscription (pay monthly, cancel anytime).
Both the solutions are self-hosted: download and install anywhere.
Pro and Platinum editions are only available as lifetime license.
Enterprise

(most popular)
$15/month
$199
pay ONCE
First Month is FREE
Platinum
$599
$40
pay ONCE
Max number of applications (in production)
Max number of test applications
Max number of records per table
Build an app from a database
Build an app from an Excel file
Build an app from scratch
Host anywhere, use anywhere
Front-end in 22 languages
Build an app from an Excel file
Import xls file into a table
Synch table with xls file
Create PDF from single record
Create PDF from results set
Granular permissions manager
External users list integration
Drop-down list, hard-coded values
Drop-down list, lookup table
Multiple drop-down, hard-coded values
Multiple drop-down, lookup table
Checkboxes, hard-coded values
Radio buttons, hard-coded values
Radio buttons, lookup table
Variable filtered list values
Hidden insertion/update date
Default value driven by SQL query
Default value from function
Pre-defined data formatting rules
Custom data formatting rules
Form layout customization
Customizable search operators
Pre-defined data validation rules
(optional) Maintenance annual fee
Any questions?
Check out the FAQs
Still have unanswered questions and need to get in touch?
Contact support
No, you buy ONE license and you can produce 5, 10 or 30 ACTIVE applications (depending on the DaDaBIK edition you purchased: Pro, Enterprise or Platinum). You can build as many TEST applications as you want.
If you use DaDaBIK in two different domains, you probably have produced (at least) two DaDaBIK applications; but again, only the number of applications counts, you don't need an additional license for each domain you want to use DaDaBIK with.
You have a free upgrade period: 6, 12 or 36 months depending on the edition you purchased (Pro, Enterprise, Platinum).
Still, if you are in your free upgrade period, you'll get it for free, even if the price increases.
You will automatically receive a regular invoice by email after the purchase, you don't need to request it.
You can add your VAT ID in the last step of the payment process, by clicking on "Update VAT ID" (or similar link, depending on your language):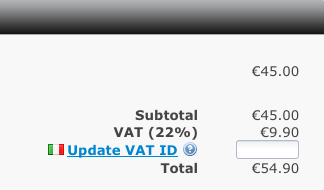 If you start a monthly subscription, the first month is free and you can cancel the subscription anytime. For lifetime licenses, we don't have a trial version.
You can also test almost all the no-code features through the online demo; you can't, however, test the low-code features (i.e. adding your own PHP and Javascript code) through the online demo.
Sure, we have implemented custom features for customers many times, both for private customers and companies. Check the services page for details.
It depends on what you mean with "cloud". You are NOT forced to host your DaDaBIK applications and data on our servers. With DaDaBIK, you can host your app wherever you prefer, exactly as you do, for example, with WordPress. Any server that supports the minimum requirements is fine: from the cheap, shared, hosting solution to the most powerful dedicated server, or even your own laptop. The applications you build with DaDaBIK are Web applications so you can use them from anywhere, with any modern Web browser, even on a mobile device (in this sense you can think of DaDaBIK as a "cloud" service, but it's YOUR cloud, or any cloud you trust!).
Yes, DaDaBIK works with any Operating System that supports PHP, the requirements are very low but if you still have doubts about your system contact us and ask!