Hello again.
I think this may be a bug.
When I display the "Insert" form for my "Bags" table, for the first time, it shows the "+" button on the
left
of the Category field's text box.
The second and subsequent times, it displays to the
right
where I believe it belongs.
Screenshots below.
This one is when I click "Create New" for the first time on the Bags form: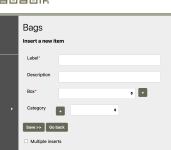 And this one is after using "Go back" and clicking "Create New" again for a second (sometimes not until third) display of the "Insert" form: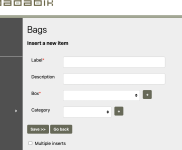 Any idea what's going on here?
Thank you.
---
Your current DaDaBIK version​
You are using DaDaBIK version 11.5-Elba enterprise, installed on 05-21-2022 (installation code: 179456288336fd5460), the latest version of DaDaBIK is 11.5-Elba released on 04-28-2022
You are running the latest release of DaDaBIK
System info​
PHP Version:
7.4.29
mysql version:
5.5.5-10.3.34-MariaDB-0ubuntu0.20.04.1
Web server:
LiteSpeed
Client:
Mozilla/5.0 (Macintosh; Intel Mac OS X 10_15_7) AppleWebKit/537.36 (KHTML, like Gecko) Chrome/101.0.4951.54 Safari/537.36