Hi. This is another display/formatting issue, again not urgent but any idea why is it happening?
I have set these parameters for the
Name
and
Description
columns (screenshot below):
Width (chars):
56
Maxlength:
255
Min width (in px) of the results grid column:
400
As you can see from the screenshot, the column has expanded to 400px correctly, which is great, but the cell content is still wrapping at the width the column would default to if I hadn't set its
Min width
parameter.
I've also attached a screenshot of the
Inspect Elements
info for the table cell in case it's helpful.
I have searched config.php and also the support forums for anything relevant pertaining to "wrap" with no success.
Thanks in advance for any help.
[Edit] Forgot to say, the text definitely doesn't have carriage returns in it.
--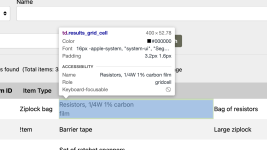 ---
Your current DaDaBIK version​
You are using DaDaBIK version 11.6-Elba enterprise, installed on 06-14-2022 (installation code: 179456288336fd5460), the latest version of DaDaBIK is 11.6-Elba released on 06-14-2022
You are running the latest release of DaDaBIK
In case you want to upgrade to a more powerful edition (from Pro to Enterprise/Platinum, from Enteprise to Platinum) please
contact us
.
System info​
PHP Version:
7.4.29
mysql version:
5.5.5-10.3.34-MariaDB-0ubuntu0.20.04.1
Web server:
LiteSpeed
Client:
Mozilla/5.0 (Macintosh; Intel Mac OS X 10_15_7) AppleWebKit/537.36 (KHTML, like Gecko) Chrome/101.0.4951.54 Safari/537.36
URL installation:
on request