Good afternoon. I'm trying to find the quickest/easiest (hopefully both) way to create a cut-down & slightly rearranged version of a Dadabik page based on a table.
It's easier to visualise than explain, so here are two screenshots.
This is the (almost) default Dadabik screen: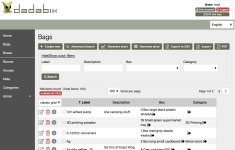 And this is what I would like: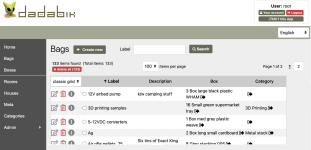 So essentially, I would like to hide all but one of the Generate Chart / Generate Pivot etc buttons, and move the Search button & field(s) up to the same line.
Is it going to be easier to create a custom page from scratch, or alter what's already there?
Are the Dadabik versions of the generic pages (like this Page-from-a-Table template) available to use as a starting point, or are they encrypted with ionCube?
Any pointers gratefully received.
Thank you.
P.S. Oh and what is the approved way to add "1000" (or whatever) to the "Records per page" dropdown?
---
Your current DaDaBIK version​
You are using DaDaBIK version 11.5-Elba enterprise, installed on 05-21-2022 (installation code: 179456288336fd5460), the latest version of DaDaBIK is 11.5-Elba released on 04-28-2022
You are running the latest release of DaDaBIK
System info​
PHP Version:
7.4.29
mysql version:
5.5.5-10.3.34-MariaDB-0ubuntu0.20.04.1
Web server:
LiteSpeed
Client:
Mozilla/5.0 (Macintosh; Intel Mac OS X 10_15_7) AppleWebKit/537.36 (KHTML, like Gecko) Chrome/101.0.4951.54 Safari/537.36