OUR SYSTEM​
Your current DaDaBIK version​
You are using DaDaBIK version 11.3-Elba enterprise, installed on 08/02/2022 (installation code: 133315a7493334bfea), the latest version of DaDaBIK is 11.3-Elba released on 17/01/2022
You are runnning the latest release of DaDaBIK
In case you want to upgrade to a more powerful edition (from Pro to Enterprise/Platinum, from Enteprise to Platinum) please
contact us
.
System info​
PHP Version:
7.4.27
mysql version:
10.3.24-MariaDB-cll-lve
Web server:
Apache/2
Client:
Mozilla/5.0 (Windows NT 10.0; Win64; x64) AppleWebKit/537.36 (KHTML, like Gecko) Chrome/98.0.4758.80 Safari/537.36 Edg/98.0.1108.50
ISSUE:​
When $enable_lookup_insert_popup = 1, then one can add new values to a lookup table and insert these new values in the destination table.
We have 4 such lookup tables in use. In only one case I managed to get the function working properly. After some modifications to that lookup table, it didn't function properly anymore, so now I have no case where this funtions properly.
The operation of adding & inserting a new value ends with the message hereunder.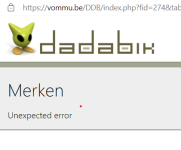 The result of the operation is as follows:
The new value is added to the lookup table (which is good)
BUT you can only select that new value in the destination table after leaving edit mode of the destination table and going back in edit mode.
The lookup tables are very simple ones:
Two of them have a AUTO INT(11) AUTO_INCREMENT field as Primary Key
And a varchar(32) field where the values are stored
In the cases where there is no AUTO INT(11) field, then the varchar(32) field is the Primay Key
In the destination table the destination field is also varchar(32)
And "Lookup table primary key field", "Lookup table linked fields" and "Lookup table order by" are all three set to the varchar(32) field in the lookup table.
Please advise what is going wrong here!
Kind greetings,
Hendrik Simoens