Hello everybody,
I tried to generate a Dashboard which helps my colleagues to remember the work to be done .... The documentation isn't very specific how to add the iframe-tag into such a dashboard so I hope for your help.
I added a custom page from type html, entered a Headlinetext and the iframe-tag and that's what I get: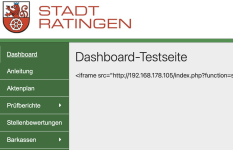 Think its a little Problem, caused by my minimal knowledge, could anyone give me a hint how to solve my failure?
Kind regards
Martin
-----------------------------------------
Your current DaDaBIK version​
You are using DaDaBIK version 11.3-Elba enterprise, installed on 21-01-2022 (installation code: 0), the latest version of DaDaBIK is 11.3-Elba released on 17-01-2022
You are runnning the latest release of DaDaBIK
System info​
PHP Version: 7.4.3
mysql version: 5.5.5-10.3.32-MariaDB-0ubuntu0.20.04.1
Web server: Apache/2.4.41 (Ubuntu)
Client: Mozilla/5.0 (Macintosh; Intel Mac OS X 10_15_7) AppleWebKit/605.1.15 (KHTML, like Gecko) Version/15.2 Safari/605.1.15
URL installation: http://xx.martin-fischer.com/rpa/ (deprecated,
don't know how to change
)